Make your child's packed lunch a healthy one!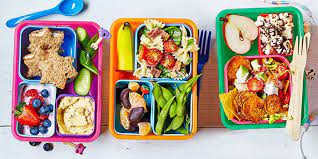 28 January 2022
Many of our children bring a packed lunch into school each day. Did you know that to keep the lunch as healthy as possible it is recommended to include items from the 5 main food groups?
These are:
1) Bread, Rice, Potatoes, Pasta. These starchy foods are a healthy source of energy. Packed lunches should include 2 or more portions e.g. pasta salad, sandwich.
2) Fruit and Vegetables. These foods provide vitamins, minerals and fibre. Lunches should include at least 1 portion of fruit and 1 portion of vegetables / salad, or more e.g. carrot/cucumber sticks, cherry tomatoes, a piece of fruit.
3) Milk and Dairy foods. These foods provide calcium for healthy bones and teeth. Include 1 portion at lunch e.g. yoghurt, fromage frais, milk.
4) Meat, Fish, Eggs, Beans. These foods provide protein for growth. Packed lunches should include 1 portion of these foods e.g. boiled egg as filling in sandwich, mixed bean salad.
5) Drinks – any drinks provided in lunch boxes should only include either plain water, milk (semi-skimmed), unsweetened fresh fruit juice, diluted fresh fruit juice, fruit or dairy based smoothies.
Whilst all children enjoy a treat e.g. cake bars, crisps, biscuits etc, it is better to limit these to just one a day.
Did you also know that we are a nut-free school?
This means that we do not use any nut-based products in the foods we serve to safeguard children who may have allergies. Please support us by not sending nuts or nut based products in your child's packed lunch. We also ask that you do not send fizzy pop/Fruit shoots, sweets, chocolate bars or foods and drinks that are high in fat and / or sugar.